In the Community
Advancing sustainability and environmental health
We believe that environmental health is essential to personal health and the health of our communities. Our business practices are guided by a commitment to responsible stewardship of the environment, and our building, operating, purchasing, and investment policies are designed to have a positive social and environmental impact, especially in diverse and underserved local communities. 
Five years ago, we established an ambitious list of 2020 goals focused on reducing the environmental impact of our operations while extending our reach outside our walls to improve the environmental health of our communities and to lend our voice to local and national advocacy issues. To date, we have exceeded four of our six goals: We have reduced our greenhouse emissions by 34%, our paper use by 64%, our waste sent to landfills by 40%, and our water use by 16%. We are making steady progress in increasing the amount of local food served in our cafeterias and eliminating toxic chemicals from our workplaces. We are now developing 2025 goals in collaboration with business leaders across the company, defining metrics and setting targets that align sustainability principles with our business priorities.
Our company is part of a larger business ecosystem that is responsible for driving change. That's why we have aligned our work with the United Nations' Sustainable Development Goals for 2030. The UN has called for broad-based support, including active involvement by the private sector, and we can confidently say that all three pillars of our healthy living strategy – healthy eating, active lifestyles and access to healthy environments – reflect our commitment to doing our part.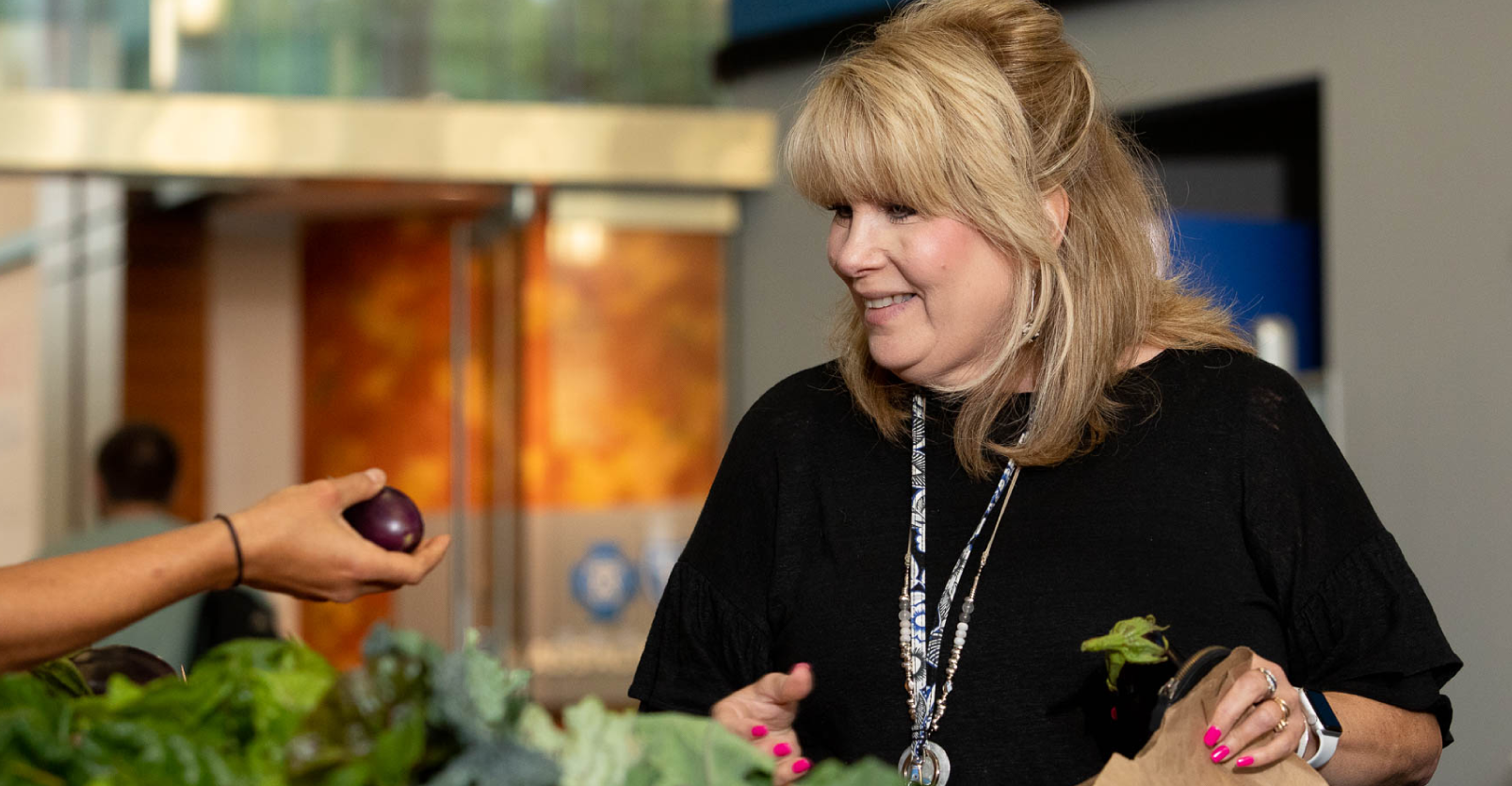 Blue Cross employees are leading and taking action in sustainability and environmental health in multiple ways. In 2019, we launched a weekly community-supported agriculture program with onsite farmer's markets featuring produce from Stone Soup Farm in Hadley and Langwater Farm in Easton. Leftover produce was donated to local not-for-profits. For employees interested in growing their own produce, we host corporate community gardens, now in their fifth year. We also offered monthly gardening workshops hosted by our community partner, The Trustees, providing tips and techniques for novice gardeners as well as advanced techniques in regenerative and organic agriculture. Last year, more than 150 employees planted, cared for, and harvested plots in our Hingham and Quincy company gardens from May through October, producing more than 5,000 pounds of fresh vegetables and herbs. The proceeds from an annual farmer's market of produce from our own gardens are donated to not-for-profits serving vulnerable members of our community.
We help launch and scale programs that improve access to nutritious meals, physical activity and healthy environments
A focus on preventing food waste and making nutritious meals available to those most in need
Energetic volunteers and strong corporate resources contribute to organizations like Camp Harbor View