Sandhya Rao, M.D.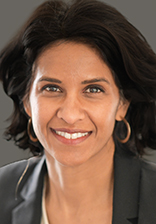 Dr. Sandhya Rao is chief medical officer and senior vice president for Blue Cross Blue Shield of Massachusetts, the largest private health plan in Massachusetts and one of the largest independent, not-for-profit Blue Cross Blue Shield plans in the country. The company serves nearly 3 million members and and more than 20,000 employers and is rated among the nation's best health plans for overall member satisfaction and quality.
Sandhya is responsible for the strategic direction and ongoing operation of the company's health and medical management and pharmacy division focused on improving the quality, outcomes, equity and affordability of health care provided to our members.
Sandhya joined Blue Cross in December 2020 and provides the company with extensive experience in population health management leading to innovative delivery solutions and unique insights into what employers want in their health plans.
Previously, she served as vice president of clinical strategy at Haven, the health care organization formed by Amazon, JP Morgan Chase, and Berkshire Hathaway. Before joining Haven, Sandhya was senior medical director for population health management at Partners Healthcare. She also served as associate medical director of the Mass General Physicians Organization, and as a business analyst at McKinsey and Co. Her clinical experience includes practice as a primary care provider at Massachusetts General Hospital and at Brigham and Women's Hospital.
Sandhya serves on the board of the Network for Excellence in Health Innovation and on the board of the Blue Cross Blue Shield of Massachusetts Foundation. She earned her Bachelor of Arts degree in public health from Brown University and her medical degree from New York University School of Medicine and completed her residency in internal medicine at Brigham and Women's Hospital.