Our company was founded in 1937 by business, health care, and community leaders who shared a vision of providing access to high-quality, affordable health care. That vision remains strong and relevant today.
Although much has changed in health care through the years, our commitment to doing what's best for our members has not. It's still the foundation of everything we do.
Browse key moments in our rich history below.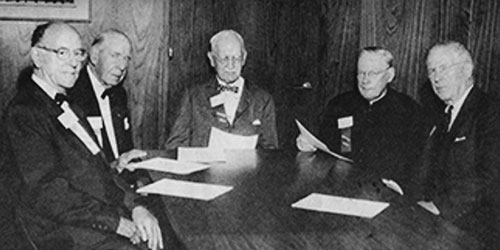 1930s
In 1937 Blue Cross opens for business on Milk Street in Boston. Its mission: to help working families afford the rising cost of health care. It's the first Massachusetts insurer to allow its members to prepay for hospital care.
Shown above, five of our founders: Edward Dana, Dr. Nathaniel Faxon, Horace Morison, Msgr. Robert Barry, and Reginald Cahalane.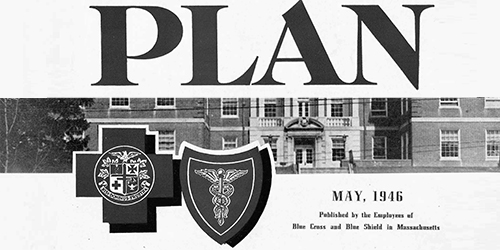 1940s
In 1942 Blue Shield is founded with a loan from the Massachusetts Medical Society. It's the first in Massachusetts to offer pre-paid coverage for doctor visits.
In 1946 Blue Cross offers a new Comprehensive Plan, which pays for every hospital service.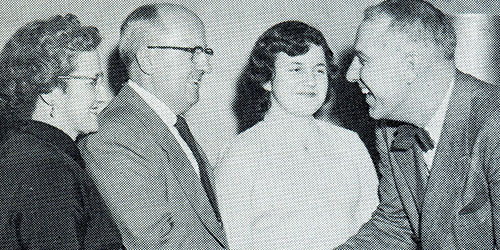 1950s
We welcome our 1 millionth and 2 millionth members in the same decade.
Shown above, Dr. Charles G. Hayden, executive director of Blue Shield, welcomes Alfred J. Mercier, with his daughter, as our 1 millionth member.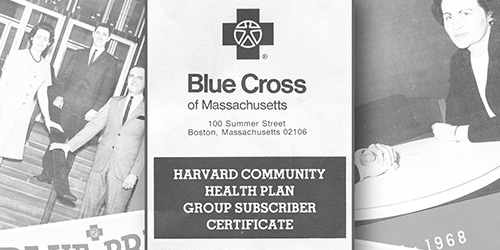 1960s
In 1969 we provide funding to start Massachusetts' very first health maintenance organization, or HMO, Harvard Community Health Plan, now known as Harvard Pilgrim Health Care.
During the next three decades, we help launch more than 10 HMOs including Bay State Health Care Plan and the precursor to Fallon Health.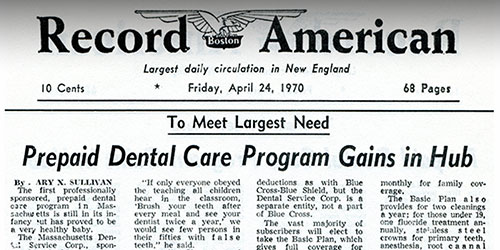 1970s
In 1970 we help launch Massachusetts' first prepaid benefit plan for dental coverage, Massachusetts Dental Service Corp., which later becomes Delta Dental of Massachusetts. 
In keeping with our tradition of taking the lead on important social issues, in the 1970s we open an Office of Equal Employment Opportunity to ensure "equal treatment of women and minorities in the corporations."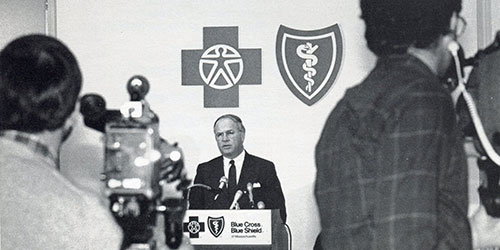 1980s
In 1983 we offer first-in-the-nation coverage for heart, lung and liver transplants.
In 1988, Blue Cross and Blue Shield merge to become one company under the leadership of President and CEO John Larkin Thompson (above), after years of operating collaboratively.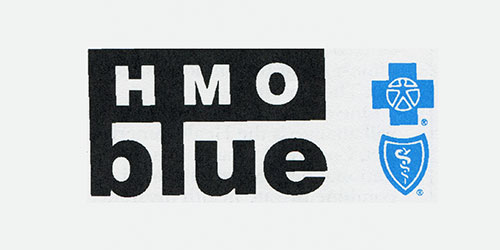 1990s
In 1992 we introduce HMO Blue. It is the first HMO plan available to all Massachusetts residents.
Committed to serving our communities, we create the Blue Crew Customer Appreciation Program in 1996 to foster a spirit of volunteerism among our employees.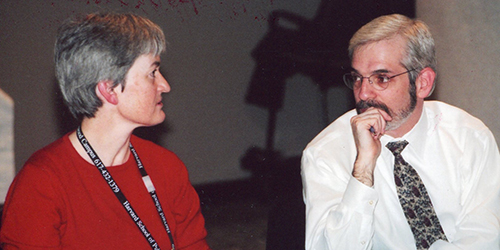 2000s
In 2001 we launch our Foundation to expand access to health care for low-income and vulnerable residents. Its work leads to landmark state and national health care reform. Shown above, Andrew Dreyfus and Nancy Turnbull, the first two presidents of the BCBSMA Foundation.
In 2009 we introduce our Alternative Quality Contract, an innovative payment model designed to support high-quality patient care while controlling costs. It becomes a national model.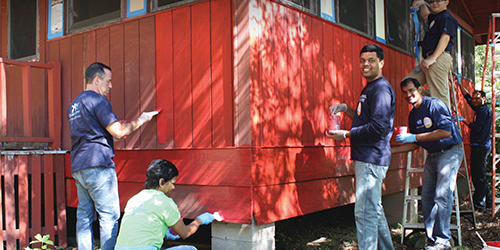 2010s
We hold our first all-company Service Day in 2011. In a single day, 3,000 Blue Cross associates contribute 15,000 hours to community service projects. The tradition has continued ever since.
In 2016, we help launch the Massachusetts Coalition for Serious Illness Care with a mission to ensure health care is in accordance with each individual's goals, values, and preferences at all stages of life.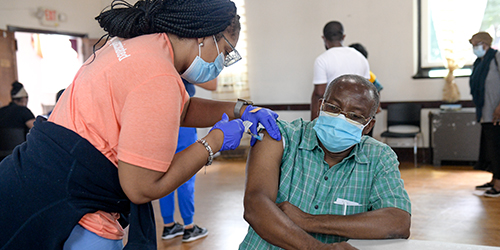 2020s
In 2020 the COVID-19 pandemic creates unprecedented challenges. We respond with empathy and energy to support members, customers, and our broader community. 
The pandemic also starkly illustrates racial and ethnic inequities in health care, leading Blue Cross to make a groundbreaking commitment to eliminate disparities in care.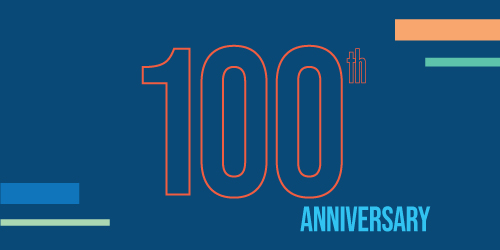 2030s
We look forward to celebrating our 100-year anniversary in 2037 and continuing our commitment to advancing quality, equitable and affordable health care with an unparalleled consumer experience for another century.
---

An independent licensee of the Blue Cross Blue Shield Association, we're a not-for-profit company that has a significant impact on our state's economy and makes considerable tax payments to local, state, and federal governments.
Visit these websites to learn more about us: