Richard Lynch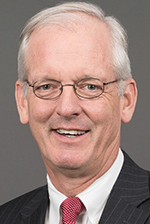 Richard Lynch is chief operating officer for Blue Cross Blue Shield of Massachusetts, the largest private health plan in Massachusetts and one of the largest independent, not-for-profit Blue Cross Blue Shield plans in the country. The company serves nearly 3 million members and more than 20,000 employers and is rated among the nation's best health plans for overall member satisfaction and quality.
Rich is responsible for claims and provider operations, consumer experience, enterprise technology, health and medical management, member and provider services, network management and contracting, performance measurement and improvement, and pharmacy and consumer solutions.
Rich joined Blue Cross in 2018 and has more than 30 years of health plan leadership experience. He previously served as the executive vice president and Northeast region market president for Beacon Health Options. Before that he was chairman and CEO of Celtic Insurance Co. in Chicago and Celticare Health Plan of Massachusetts. Rich has also held senior positions at WellPoint (now Anthem) and at Tufts Health Plan, where he was VP of network management and operations. He began his career in health care as an intensive care nurse at Children's Hospital in Boston.
Rich is a member of the board of directors of Arcadia, a health care data and software company and Evio, a pharmacy solutions startup. He also serves on the board of directors for Community Rowing, Inc. and is a member of the leadership council of The Schwartz Center.
Rich received his MBA in health care management from Boston University and his Bachelor of Science in nursing from the University of Lowell.