Jay McQuaide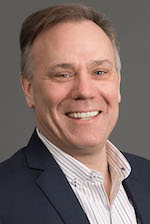 Jay McQuaide is chief communications and citizenship officer and senior vice president for Blue Cross Blue Shield of Massachusetts, the largest private health plan in Massachusetts and one of the largest independent, not-for-profit Blue Cross Blue Shield plans in the country. The company serves nearly 3 million members and more than 20,000 employers and is consistently rated among the nation's best health plans for overall member satisfaction and quality.
Jay has executive responsibility for all internal and external communications programs as well as our work to build healthier, more equitable and just communities. This includes programs related to civic engagement (volunteerism), charitable investing, and climate resiliency. He also serves as executive sponsor for business continuity and disaster response program and the AZULatinx employee resource group.
Before joining Blue Cross in 2005, Jay worked as a broadcast journalist for nearly two decades, including serving as an anchor and reporter for WBZ radio and television in Boston. Jay received the national Edward R. Murrow Award for Excellence in Broadcast Journalism and numerous awards for his coverage of the New Hampshire presidential primary.

He is active on the boards of several local not-for-profits, including A Better City.
Jay graduated from the University of Massachusetts at Lowell with a double major in English and political science.