Don Savery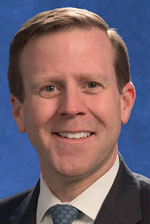 Don Savery is senior vice president and general counsel for Blue Cross Blue Shield of Massachusetts, the largest private health plan in Massachusetts and one of the largest independent, not-for-profit Blue Cross Blue Shield plans in the country. The company serves nearly 3 million members and is rated among the nation's best health plans for overall member satisfaction and quality.
As the company's general counsel, Don leads our law department, providing legal advice and counsel to the company and ensuring compliance with federal, state and local laws.
Don joined the company 2012 and was named general counsel in 2017.  Before joining Blue Cross, Don served as Assistant United States Attorney in the U.S. Attorney's Office for the District of Massachusetts, focusing on health care fraud civil and criminal enforcement.  He is a former partner in the litigation and securities practices at Bingham McCutchen LLP.  Early in his career, Don served as a law clerk to Hon. Joseph R. Nolan at the Massachusetts Supreme Judicial Court and to Hon. Francis J. Boyle at the U.S. District Court in Rhode Island.
Don is an adjunct professor at Boston College Law School, where he teaches civil litigation strategy.  He is co-author of the Massachusetts Practice Series treatise on civil practice in the federal courts, Federal Civil Practice (2d ed. 2008, Thompson West), and he has authored numerous articles touching on civil litigation and procedure.
A member of the American Law Institute and a Fellow of the American Bar Foundation, Don received his Bachelor of Science degree from Fitchburg State University, Juris Doctor from Boston College Law School and a Master of Laws from the University of Cambridge.