David Corkum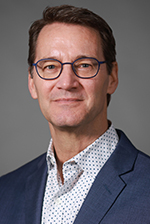 David Corkum is executive vice president and chief commercial officer for Blue Cross Blue Shield of Massachusetts, the largest private health plan in the state and one of the largest independent, not-for-profit Blue Cross Blue Shield plans in the country. The company serves nearly 3 million members and more than 20,000 employers and is consistently rated among the nation's best health plans for overall member satisfaction and quality.

David joined the company in 2023 and is responsible for the strategic direction of the company's commercial business. He leads all commercial market-facing functions, including sales and product, brand management and marketing, as well as the development of medical, specialty, and health engagement products.
Before joining Blue Cross, David served as the executive vice president of commercial markets and chief growth officer at CareFirst Blue Cross Blue Shield headquartered in Baltimore, Maryland. CareFirst provides health and specialty insurance coverage and administrative services to 3.5 million members in Maryland and Washington D.C. Previously, he was senior vice president, commercial markets for Blue Cross Blue Shield of Minnesota. David also held a variety of sales leadership roles at Aetna.

David received his Bachelor of Science degree in finance from Fairfield University.