Candace Reddy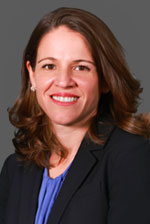 Candace Reddy is vice president and chief of staff of the executive office for Blue Cross Blue Shield of Massachusetts, the largest private health plan in the state and one of the largest independent, not-for-profit Blue Cross Blue Shield plans in the country. The company serves nearly 3 million members and more than 20,000 employers and is consistently rated among the nation's best health plans for overall member satisfaction and quality.
Candace leads the executive office. She serves as the CEO's liaison to key internal and external stakeholders, and provides support for executive-level meetings, speaking engagements and community events.
Candace has more than 15 years of executive-level management experience in the public and private sectors. Before joining Blue Cross, she served as senior director of payor relations for Boston Children's Hospital, partnering with health plans to ensure patient access to high-quality, complex, pediatric care. 
Before that, Candace was vice president of external affairs and business development at CeltiCare Health and New Hampshire Healthy Families, a wholly owned subsidiary of Centene Corporation. In that role, Candace was responsible for government affairs, marketing and communication and business growth for the New England region. She also served the Commonwealth of Massachusetts as assistant secretary for health care finance in the Executive Office for Administration and Finance, playing a leadership role in the state's work to implement the Affordable Care Act.  
Candace earned her Bachelor of Arts in Business and her MBA in finance from Clark University.