Quincy L. Miller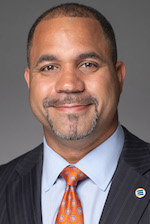 Quincy was elected to the Blue Cross Blue Shield of Massachusetts board in 2019. As a director, Quincy helps set the company's strategy and overall direction. Within a highly competitive and highly regulated business environment, the board oversees and governs BCBSMA's operations, which includes the provision of health care coverage to individuals and public and private employers. Quincy serves as vice chair of the board's finance and business performance committee, the governance committee and the investment committee.
Quincy is president and vice chair of Eastern Bank, the largest and oldest mutual bank in the United States, with over $13 billion in assets and more than 100 banking and insurance locations serving eastern Massachusetts, southern and coastal New Hampshire. His focus is on helping lead the overall strategic direction of the bank, which has served its customers, colleagues and communities for more than 200 years.
Quincy is the former president of Citizens Bank, Massachusetts, and president of Citizens' Business Banking division. 
Quincy is committed to supporting the communities where he lives and works with a focus on youth and equity. He serves on the board of directors for The Boys and Girls Club of Boston, The Bottom Line, The Alliance for Business Leadership, NACD New England, and is a founding member of The New Commonwealth Racial Equity & Social Justice Fund.
Quincy has been recognized in the community as an inaugural member of the GK100 "most influential people of color in Boston" by Get Konnected, and in 2020 was honored at the Martin Luther King Jr. Memorial Breakfast with the MLK 50th Anniversary Award for his commitment to diversity & inclusion that expresses Dr. King's commitment to justice and equity.
 
A graduate of Lafayette College, Quincy earned a Bachelor of Arts in economics and business. He also is a graduate of the Consumer Bankers Association's Graduate School of Retail Bank Management.