Martin T. Meehan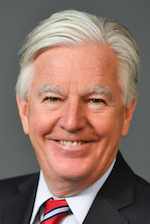 Marty was elected to the Blue Cross Blue Shield of Massachusetts Board in 2017.  As a director, he helps set the company's strategy and overall direction. Within a highly competitive and heavily regulated business environment, the board oversees and governs the company's operations, which includes providing health care coverage to individuals and public and private employers. Marty serves as chair of the board's governance committee and is a member of the board's human resources committee. 

Marty is the President of the five-campus University of Massachusetts system.  He is the 27th president and first undergraduate alumnus to lead the institution, the 3rd largest employer in the Commonwealth. Previously he served as chancellor of his alma mater, UMass Lowell.  Before that he had a long career in public service including serving for 14 years in the U.S. House of Representatives representing Massachusetts 5th Congressional district and as First Assistant District Attorney for Middlesex County.
Marty serves on the Association of Public and Land-grant Universities (APLU) Board of Directors, the Board of the National Association of (University) System Heads and the All In Campus Democracy Challenge Higher Education Presidents' Council.  He also serves on the board of several prominent organizations, including the New England Council and the Greater Boston Chamber Board of Directors. Marty holds honorary degrees from Suffolk University, Green Mountain College, Shenkar College of Engineering & Design, the American College of Greece, Merrimack College, Queens University Belfast and University College Cork.
A native of Lowell Massachusetts, Marty graduated cum laude from UMass Lowell in 1978 with a degree in education and political science.  He earned a master's degree in public administration from Suffolk University in 1981 and a juris doctor from Suffolk University Law School in 1986.