Ami Parekh, MD, JD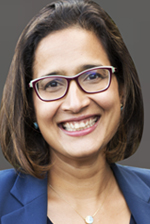 Dr. Ami Parekh was elected to the Blue Cross Blue Shield of Massachusetts board in 2021. As a director, she helps set the company's strategy and overall direction. Within a highly competitive and highly regulated business environment, the board oversees and governs Blue Cross' operations, which includes the provision of health coverage to individuals and public and private employers. Ami serves as a member of the audit committee and the health care quality and affordability committee. 
Ami is the chief health officer for Included Health, a company that helps consumers navigate the health care system and make better, more informed health care decisions.
Prior to Included Health, she was chief medical officer for population health and clinical integration for University of California San Francisco Health. She also served at the Clinton Foundation and at McKinsey & Co. 
Ami was named by FierceHealthcare as a Women of Influence in 2020. 
She graduated Phi Beta Kappa from Williams College, majoring in political science and biology. Ami received her MD from Yale Medical School and her JD from Yale Law School. She did her residency in internal medicine at Brigham and Women's Hospital and was selected to serve as chief resident at Brigham and Women's Faulkner Hospital.