Tony Centrella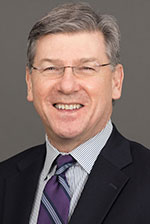 Tony Centrella is interim chief financial officer for Blue Cross Blue Shield of Massachusetts, the largest private health plan in the state and one of the largest independent, not-for-profit Blue Cross Blue Shield plans in the country. The company serves nearly 3 million members and more than 20,000 employers and is consistently rated among the nation's best health plans for overall member satisfaction and quality.
On an interim basis, Tony is responsible for all financial, investment, real estate, actuarial and underwriting activities related to the financial management of more than $8 billion in annual revenues and almost $4 billion in assets.
As senior vice president, financial services, Tony is responsible for companywide budget and expense monitoring, all non-provider purchasing through center-led procurement, supplier diversity, and financial stewardship for major operating projects and technology infrastructure initiatives, as well as fiscal and operational responsibility for sales channel management and cost of acquisition. In addition, he is responsible for corporate facilities, hospitality, and real estate management with nearly 1 million square feet of space to oversee.
Tony also oversees the finance development program, designed to produce and retain strong performers and to provide a pipeline of talented resources for the company. He is also an executive sponsor for the Black Professional Network, an employee resource group for people of color.
He joined Blue Cross more than 40 years ago as an actuarial analyst. Since then, he has held several leadership positions including director in actuarial services and business leader for the small business and select market segments.
Tony is a trustee and chair of the audit & risk committee for St. Mary's Center for Women & Children of Dorchester, which offers innovative and family-centered programs for women and children who have experienced trauma and are living in poverty.
Tony has a degree in business administration from Salem State University and a degree in mechanical engineering from Wentworth Institute of Technology.