Susan L. Sgroi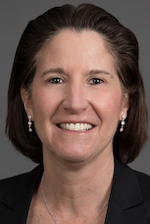 Sue Sgroi is chief human resources officer and executive vice president for Blue Cross Blue Shield of Massachusetts, the largest private health plan in Massachusetts and one of the largest independent, not-for-profit Blue Cross Blue Shield plans in the country. The company serves nearly 3 million members and more than 20,000 employers and is rated among the nation's best health plans for overall member satisfaction and quality.
Sue is responsible for organizational effectiveness and leading the human resources division with a focus on fostering a high performing, diverse workforce and an inclusive and innovative culture. 
Sue joined the company in 2015 and has more than 35 years of human resource leadership experience nationally and internationally. Her human resources expertise encompasses organizational effectiveness, compensation design, culture change, talent management and capability development, mergers and acquisitions, and leadership coaching across multiple businesses and geographies. Sue has a proven track record of aligning strategic and business objectives with organizational and workforce strategies. 
She previously served as executive vice president of human resources for Fidelity Investments Asset Management Company. She has a proven track record of aligning strategic and business goals with organizational and workforce strategies.
Sue is a member of the board of directors of Everett Co-operative Bank. She also serves on the boards of St. Francis House, the largest day shelter for the homeless in Boston, and the Northeast Human Resources Association. She is a member of the Human Resources Policy Institute and the Health Care Human Resources Forum.
Sue holds a master's degree in organizational development from American University and a bachelor's degree in psychology from Bowdoin College.