Sukanya Lahiri Soderland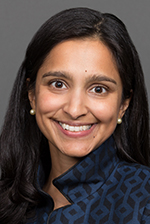 Sukanya Soderland is senior vice president and chief strategy officer for Blue Cross Blue Shield of Massachusetts, the largest private health plan in Massachusetts and one of the largest independent, not-for-profit Blue Cross Blue Shield plans in the country. The company serves nearly 3 million members and more than 20,000 employers and is rated among the nation's best health plans for overall member satisfaction and quality.
Sukanya, in partnership with the company's management team, is responsible for developing strategies that will drive Blue Cross' overall direction and achieve the company's business goals. She also leads data analytics, business performance and process improvement, and innovation.
Sukanya joined Blue Cross in 2018. Previously, she was with Oliver Wyman, a leading international management consulting firm. She served as a senior partner in their health and life sciences practice, co-founded the Oliver Wyman Health Innovation Center, and was the lead health care partner in Oliver Wyman's digital, technology, operations and analytics practice.
Recognized as a national thought leader in health care, Sukanya is a frequent speaker and contributor at industry events and forums.
Sukanya earned an MBA from Harvard Business School and graduated magna cum laude from Harvard College with a Bachelor of Arts degree in sociology and economics. She serves on the board of the Trustees and on the board of advisors for the Museum of Science.