Patrick Gilligan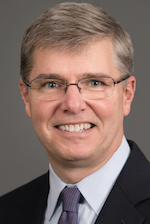 Pat Gilligan is chief commercial officer and executive vice president for Blue Cross Blue Shield of Massachusetts, the largest private health plan in Massachusetts and one of the largest independent, not-for-profit Blue Cross Blue Shield plans in the country. Serving nearly 3 million members and more than 20,000 employers, Blue Cross is consistently rated among the nation's best health plans for overall member satisfaction and quality.
Accountable for all commercial market-facing functions, Pat's leadership responsibilities include establishing the strategic direction of our commercial business; developing and managing all medical, specialty, and health engagement products; overseeing brand management, marketing, and consumer experience efforts; and leading the sales and account service teams. In addition, he is the CEO of Zaffre, the company's strategic investment arm.
Pat initially came to Blue Cross Blue Shield of Massachusetts in September of 2007 as senior vice president for health care contract management. There, he was responsible for the development of provider contracting strategy and network execution and for successfully implementing the Alternative Quality Contract, a payment reform initiative that has received national recognition.
Pat brings more than 20 years of health care experience to Blue Cross. He has served as senior vice president for health system alliances at CVS Health and as vice president for payor contracting for Partners Healthcare System. Pat currently serves on the board of the United Way.
Pat received his Bachelor of Arts in mathematics from the College of the Holy Cross.