Linda Williams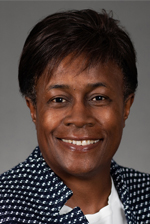 Linda Williams is chief risk and audit officer and senior vice president for Blue Cross Blue Shield of Massachusetts, the largest private health plan in Massachusetts and one of the largest independent, not-for-profit Blue Cross Blue Shield plans in the country. The company serves nearly 3 million members and is rated among the nation's best health plans for overall member satisfaction and quality.
Linda is responsible for strategic enterprise risk management, internal audit, and information security reporting to the audit committee of the board of directors.
A health insurance executive with more than 25 years of experience, Linda joined our company in 2008 as a vice president. She was named senior vice president and chief underwriter in 2010, leading the underwriting, account reporting, and contracts administration areas responsible for the development and execution of account- and market-specific pricing strategies along with the administration of contractual agreements.
For five years, she also served as segment lead of the commercial 51+ fully insured market, responsible for setting the strategic direction for growth and performance of more than 612,000 members representing $3 billion in premiums.
Before joining our company, Linda was a senior consultant for Medwise Partners, a consulting firm specializing in advising provider-run health insurance companies. Previously, she was director of underwriting for Magellan Behavioral Health and the unit head of underwriting for Aetna, Inc.
She serves on the board of directors of Goodwill as vice chair and RFK Action Corp as treasurer. 
Linda received her Bachelor of Science in communications from Johns Hopkins University.