Andreana Santangelo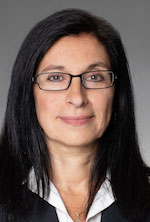 Andreana Santangelo is executive vice president and chief financial officer for Blue Cross Blue Cross Blue Shield of Massachusetts, the largest private health plan in Massachusetts and one of the largest independent, not-for-profit Blue Cross Blue Shield plans in the country. The company serves nearly 3 million members and more than 20,000 employers and is rated among the nation's best health plans for overall member satisfaction and quality.
Andreana is responsible for all financial, investment, real estate, actuarial and underwriting activities related to the financial management of more than $8 billion in annual revenues and almost $4 billion in assets.
Andreana formerly led the actuarial and analytic services department within the finance division. In that capacity, she was responsible for pricing, informatics, reserving and financial forecasting for all of the company's product lines as well as developing the strategic and analytical input that is used to support  provider reimbursement plans and contract negotiations. She also developed and led the analytical processes that are used to measure external regulatory and competitive influences on the business and its product lines and the effectiveness of various provider and member programs that are designed to lower medical costs, specifically provider incentive programs, consumer choice products, and wellness and prevention benefits.

Prior to joining Blue Cross in 2003, Andreana held a number of leadership roles at CIGNA Corp. Her career has provided her with expertise in the areas of pricing and underwriting strategy; financial modeling and analysis; asset and liability modeling and investment management; medical economics and analysis; health plan operations; medical utilization and unit cost management; and budgeting and financial operations.

Andreana is a fellow of the Society of Actuaries and a member of the American Academy of Actuaries. She is also a member of the board of directors at Junior Achievement of Northern New England and HarborOne Bank.

She holds a Bachelor of Science in mathematics from the University of Massachusetts, Amherst.