Vanessa Calderón-Rosado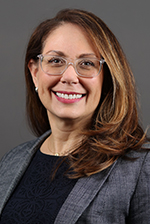 Vanessa was elected to the Blue Cross Blue Shield of Massachusetts Board in 2023.  As a director, she helps set the company's strategy and overall direction. Within a highly competitive and highly regulated business environment, the board oversees and governs BCBSMA's operations, which includes the provision of health coverage to individuals and public and private employers. Vanessa serves as a member of the board's audit committee and the health care quality and affordability committee.
Vanessa is chief executive officer of Inquilinos Boricuas en Acción (IBA), a community development corporation dedicated to empowering and engaging individuals and families to improve their lives and achieve socio-economic mobility through high-quality affordable housing, education, financial and resident empowerment and arts programs. Under Vanessa's leadership, Inquilinos Boricuas en Acción has become the largest Latino-led nonprofit organization in Greater Boston, managing a portfolio of 667 affordable housing units in its South End Villa Victoria development and in Roxbury and Mattapan.
Vanessa was selected as a Barr Foundation fellow in 2009 and now serves on the foundation's board of trustees. In 2010, she became the first Latina ever appointed to the Massachusetts Board of Elementary and Secondary Education. In 2014, she was appointed to the City of Boston's Housing Task Force and Women's Commission. She also served on Massachusetts Gov. Maura Healey's affordable, abundant housing transition committee.
Vanessa is a founding board member of the Margarita Muñiz Academy, the first dual-language high school in Boston, and a co-founder of the Greater Boston Latino Network. She serves on the boards of the Massachusetts Association of Community Development Corporations, the Boston Foundation, and the Yawkey Foundation. She is also a member of the Boston Foundation's Latino Equity Fund Advisory Committee and Eastern Bank's board of advisors.
Born and raised in Puerto Rico, Vanessa has a bachelor's degree from the University of Puerto Rico, earned her doctorate in public policy from UMass Boston and was awarded an honorary doctorate from Cambridge College.