Manny Lopes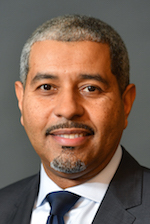 Manny Lopes is executive vice president, public markets and government relations, for Blue Cross Blue Shield of Massachusetts, the largest private health plan in Massachusetts and one of the largest independent, not-for-profit Blue Cross Blue Shield plans in the country. The company serves nearly 3 million members and is rated among the nation's best health plans for overall member satisfaction and quality.
Manny joined the company in 2021 and is responsible for Blue Cross' Medicare and government and regulatory affairs divisions. He has long history of developing innovative programs that improve health care quality, access and equity
Previously Manny served as president and chief executive officer of East Boston Neighborhood Health Center, the largest community health center in Massachusetts and one of the largest in the U.S. Under his leadership, the health center grew dramatically, increasing the number of patients served by nearly 40% and adding two state-of-the-art facilities. Before being named the health center's president and CEO in 2012, Manny served in a variety of leadership positions there including in IT, human resources, and operations.
Manny served on the Blue Cross board of directors from 2017 until joining the company in his current role.
He is the co-founder of  the Community Care Collaborative, the only ACO in Massachusetts created and governed by health centers and exclusively focused on advancing community-based care for MassHealth members. Manny also co-founded Advocates for Community Health, a national advocacy organization for innovative health centers focused on equity and impact.
Manny serves on a number of health care and government boards and committees. He is chair of the Boston Public Health Commission Board and a member of the Massachusetts League of Community Health Centers Executive Board; the Boston Medical Center's Board of Trustees; the Commonwealth's Health Information Technology Council; and the My Brother's Keeper Boston Advisory Committee
Manny received his Master of Business Administration from Northeastern University's Graduate School of Business.