Edward Kelly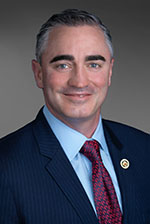 Edward Kelly was elected to the Blue Cross Blue Shield board of directors in 2021. As a director, he helps set the company's strategy and overall direction. Within a highly competitive and highly regulated business environment, the board oversees and governs Blue Cross' operations, which includes the provision of health coverage to individuals and public and private employers. Ed serves on the audit committee and the health care quality and affordability committee.
Ed is the general president of the International Association of Fire Fighters, which represents more than 325,000 full-time professional fire fighters and paramedics in the US and Canada. Previously, he served as the association's general secretary-treasurer from 2016-2021. 
Ed joined the Boston Fire Department as a fire fighter/EMT in 1997. He served on the technical rescue team starting in 1999. He has responded to a number of high-profile disasters including the Worcester Cold Storage fire that killed six fire fighters, Ground Zero after the Sept. 11, 2001 terror attacks, and the Boston Marathon bombing in 2013.
Ed is a co-founder and member of the board of directors for Massachusetts Iraq and Afghanistan Fallen Heroes and a trustee for the Boston Fire Department Charitable Association.
Ed was named Labor Leader of the Year by the Greater Boston Labor Council. He is a graduate of the Harvard Trade Union Program class of 2015 and a veteran of the United States Air Force.